Tiling is more than simply laying a tile on adhesive. Tiling is a calculated process of understanding the tile in relation to the room and understanding the different types of tiles and their suitability.
We offer extensive tiling services, covering the following areas:
Bathroom Tiling
Wall Tiling
Floor Tiling
Kitchen Tiling
We fit the following types of tiles:
Ceramic Tiles
Porcelain Tiles
Natural Stone Tiles
Tiling is an art-form and when finished, it must be a masterpiece.
When a room is to be tiled, we first take the tile's measurements and align it with the room to ensure no overly small cuts (which would look peculiarly odd) are placed. Once a good amount of pre-planning is done, we will assess the ground and wall conditions.
Concrete floors must be levelled firstly with self-levelling compound, or have a flat enough screed. Wooden and first floors require backer-boards and/or decoupling matting/membrane. Concrete backer-boards will stop the moisture of tiled floors in bathrooms from going into the ceiling-joists and rotting them over time.
Porcelain tiles tend to be a lot stronger than ceramic tiles. You can tell a porcelain tile from the colour of the glaze. The glaze's colour is similar to the colour of the back of the tile, however, ceramic tiles generally have a red/tan colour on the back and are a lot easier to break.
Natural stone tiles include:
Marble
Granite
Limestone
Onyx
Quartz
When working with costly materials, a competent tradesman must be responsible for the works. Whilst tiles generally have small imperfections that are not noticed by the untrained eye, our tradesmen do not like uneven corners. All 4 corners of the 3 or 4 tiles (depending on tile pattern) must be even and match. There are various techniques how to do this.
The British Wall and Floor Tiling Standards (BS 5385-1) stipulate how tiling should and should not be carried out and this is where we run our techniques by, as even if you are unable to see the tile adhesive we are placing, it should still be placed correctly.
There are new technologies such as the levelling-wedge system which ensures the tiles are completely level. These new technologies are the most efficient and accurate way of making sure the corners of your tiles meet and maintain the level of the first tile that was laid.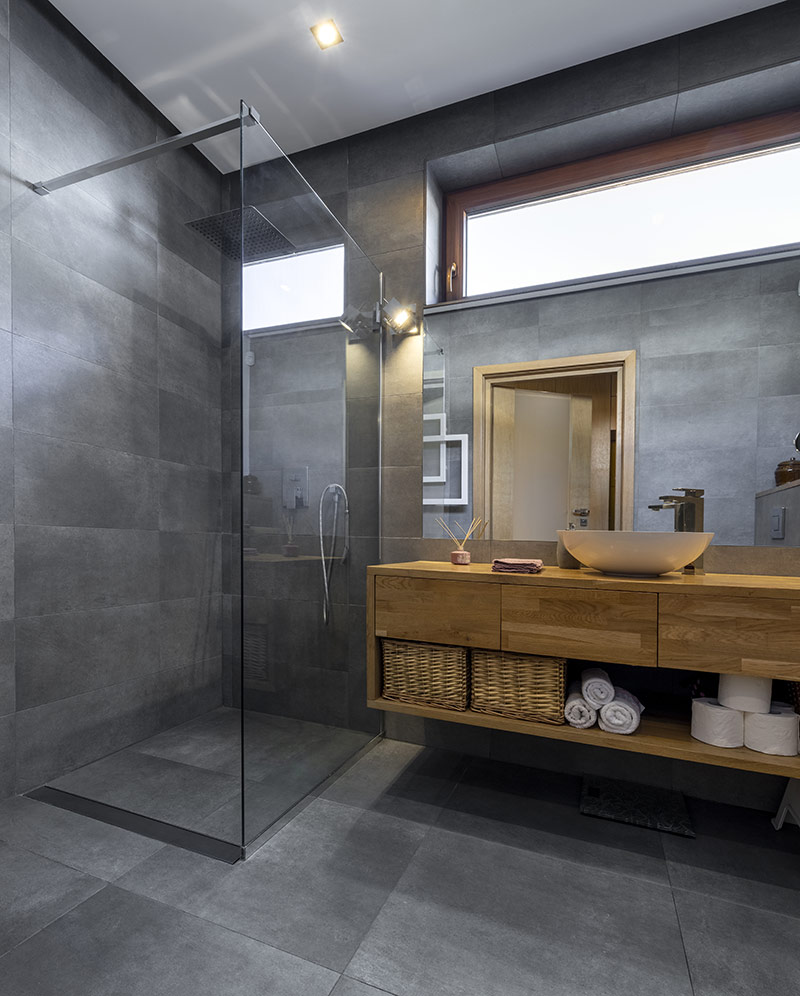 Before tiling in bathrooms, marine plasterboards must be installed, along with tanking moisture-prone areas to stop moisture going from the shower or bath into the walls. This is an example of the precautions a good tiler will take to ensure that you will have damage-free bathrooms in years to come. Similarly, in kitchens, a good tiler will ensure all pipes that are visible have no leaks or damp before tiling, as any damp may reduce the hold of the adhesives.
There are various types of patterns, adhesives and grouts that are used within tiling and we are able to guide you through the most viable options prior to laying a tile down. We generally prefer the client to purchase tiles to their preference, however, we are able to source all types of tiles, including high quality natural stone tiles.