Bricklaying is an art, as it can showcase exemplary work and talent once completed, and we take pride in the high-quality of our bricklaying. We offer all bricklaying services, including but not limited to:
General bricklaying
Angled bricklaying (special cutting)
Arches
Block laying
Padstone and air brick laying
Brick soldier laying
We are adamant on using 1st class bricks. One may wonder the difference between a 1st and 2nd class brick. A 1st class brick is a proper cut, without imperfection. This is a pricey brick, but it is aesthetically pleasing once laid and it is easier for the bricklayer to work with. A 2nd class brick, however, is a lower quality cut that does not have a pure rectangular shape. Instead, it forms a parallelogram shape and causes slight problems for the bricklayers when laying. Thus, we stay far from 2nd class bricks and only use 1st classes, as our service is bespoke and catered to our customers who truly want the best home.
It is not just the brick where the material journey ends on the quest to develop your ideal shell. The sand-cement (and a tad of plasticiser!) mix for mortar needs to use a good quality sand. With our good friends at EH Smith, we only buy their sand, which is sourced from the most premium quarries in the country. With a lower quality of sand, more sand is wasted. This proves costly both for the builder and for the client, creating a false economy. Do it right the first time.
Next, comes the challenge of an angled cut. When a side extension is bigger from the front and reduces size towards the back, the calculated measure is to find the angle of change. Once this angle is found, we source your bricks and deliver them to our specialist brick-cutter Martin in Tamworth and he will perform the cut-and-bond process. You may wonder what happens if you just lay a standard brick in this scenario without cutting it. Well, you will have a massive mortar line. For example, a standard mortar line is 10mm. However, without cutting the brick, your mortar line in this case will be at least 30mm. When you instruct us to complete your works, we take care. Trust is a big part of business and we take care to this extent as it is necessary to ensure we are happy with the end product, for we take pride in our workmanship.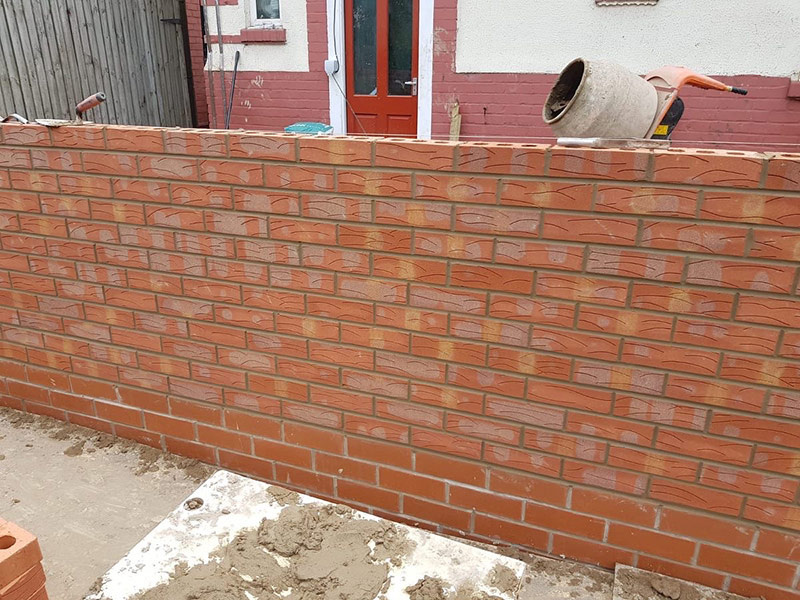 After testing various bricklayers throughout the years, we have seen what it takes to make a great bricklayer. Firstly, without the right tools, the bricklayer, or 'bricky' will not be able to make a wall that is completely straight. So, what are the right tools? The most prominent tool a bricklayer needs is his trowel. Without it, he is nothing. With his builders' lines and profiles, he will be able to create a completely flush wall with matching mortar lines. But the bricklayer is not on his own. The bricklayer's mate will be making his mixes and deliver them to him on his muck-boards. If the bricklayer's mate doesn't pay attention, mixes will vary and the colour and consistency will change. But luckily, you don't have to worry about that issue as we use vetted bricklayers that take pride in their work.