Let there be light! Electric truly does bring life into the house once installed competently. It is a must that electric work should be carried out by a qualified electrician who is certified by a board such as the NICEIC.
Our electrics service is next-to-none and we employ the best electricians who will provide a bespoke design service to ensure each room has the correct spacing of lights, sockets and USB sockets.
We offer the following electrical services, and more:
Full rewiring
Consumer Unit Installation
Spotlight Wiring and Installation
Sockets Wiring and Installation
Electrics Material Sourcing
WiFi Socket Installation
Electric Underfloor Heating Installation
Outdoor Lighting
Ring Doorbell Installation
Electrics is more than a socket here or there. It is more than a few new spotlights. It is ensuring your kitchen's units are brought to life with the spotlight plan. It is making sure your office desk has a hidden socket and wiring to remove a messy look. It is placing a double socket in the middle of the wall so your new TV doesn't have HDMI wires and plugs showing. It is making sure you are safe.
Therefore, we work with our clients to ensure they have all electrical points in the most practical places that also match wiring regulations. For example, in the kitchen, no electrical sockets may be placed 300mm either side of the cooker and sink.
All electrics have to be earth tested to make sure they meet BS7671 (Wiring Regulations) and the current amendment of electrics. With successful earth testing, you are then able to receive an Electrics Certificate from Building Control.
External/Outdoor lighting uses different IP ratings. Whilst internal lights use IP20 lights (the 0 stands for 0 water protection), outdoor lights use IP65, IP67 and IP68 lights depending on what is required. Similarly, in bathrooms and kitchens (above the hob), IP65 downlights should be used.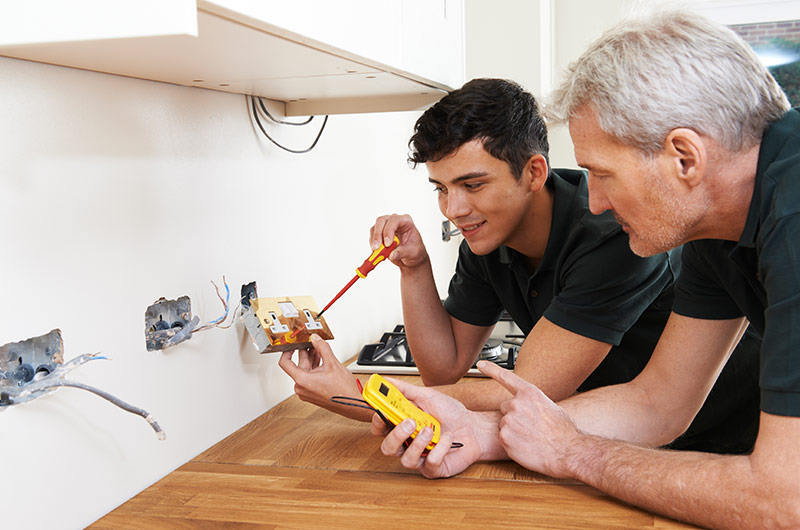 In a new extension, a new, metal consumer unit is required as most old consumer units are made out of plastic. Because of this, old consumer units do not meet BS 7671 fire safety addresses. Therefore, you must safely connect your new fuse box to your isolator switch. If you do not have an isolator, this must be fitted by your meter company by law.
We also facilitate meter moves from areas such as garage conversions, as you cannot have an electrical meter in a converted living space. Moving your meter or installing a smart meter must be carried out by your power company. After paying the company, they will install the meter, but not connect it. This is where we will instruct our own electricians to connect the new smart meter to the electric supply. You cannot do this by yourself, or by a normal electrician, so make sure it's done the right way.
In new extensions, the client will instruct us of what colour sockets and lights they wish to use prior to the extension, as pre-planning is a very important step. This means the electrician is ready to hop on to your works without delays.