Our bespoke bathroom service offers you the finest bathroom to suit you and your family. We work with the finest tiles and suites, using porcelain or natural stone tiles to your preference. We design your bathroom using a CAD design service if you are unsure of how you would wish for your bathroom to look. We view the drainage points in the existing bathrooms to find the most appropriate drainage plan to ensure you have no blockages.
Bathrooms should be fitted by expert tradesmen to ensure your bathroom functions without fault after years. Therefore, the following tradesmen are required:
A plumber to lay the pipes for your sink, toilet and bath/shower and towel rail. A sink requires both a hot and cold feed. A toilet only requires a cold feed, unless you require a douche-spray or Japanese toilet.
An electrician to wire your lights using IP65 downlights, shaving socket, mirrors, extractor fan and electric-powered shower using a 10mm twin and earth cable, should you require this.
A glazer to manufacture and install obscure windows if they have not yet been installed.
A plasterer to board your walls and ceiling using marine (green) plasterboards and to plaster the ceiling.
A fitter to install your bath prior to tiling. The fitter will then return once the bathroom has been tiled to fit the sink, shower screen, toilet and vanity unit(s).
A tiler to tank, tile and grout your bathroom. Tanking is essential around outlet areas such as sinks, toilets and shower mixers, as without it, water can damage the plasterboard behind, even if it is marine plasterboard. The tilers in our team also prefer to fit the shower trays with adhesive as they are able to produce a much cleaner finish.
A carpenter to fit the architraves and doors.
At this point, your bathroom fit out is complete. Therefore, 7 tradesmen are required to get an immaculate finish. Our team consists of all 7 tradesmen; therefore, we are able to create the bathrooms of your dreams by having 7 expert tradesmen who focus on their speciality. With such a specialised service, we provide a 5-year post-fit repair service.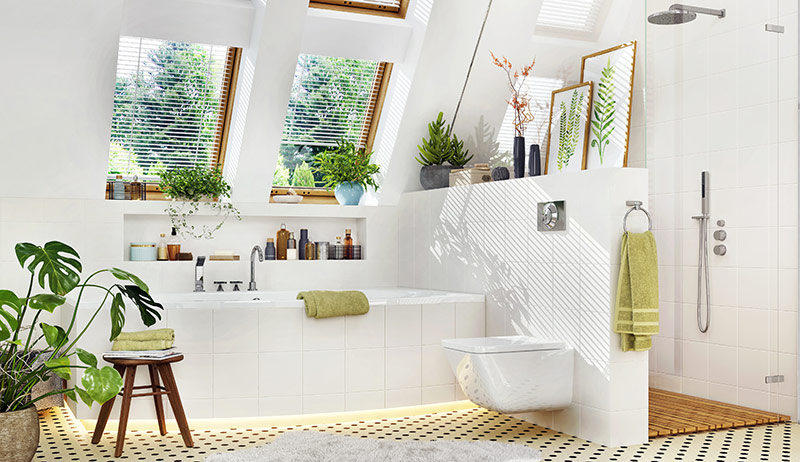 We also fit wet-rooms which are more tiling-intensive. Wet rooms are a new trend which removes shower trays, ideal for all people aesthetically, however, they provide ease of access for the elderly and disabled.
We are able to source luxury bathroom fittings, available upon request. However, we also allow you to provide us with your own suite and we will fit it. If you require assistance on what would be most feasible, we will happily help you decide on what is best for you.
As is known, having a bath in the house raises the house's value by 5% (Towergate), however, it is not simply the value of the house that will raise. A new bathroom raises the quality of life for you and your family. The bathroom is where you begin your day clean and fresh, and also the place where you will enjoy a relaxing bath or shower. Therefore, it is imperative that your bathroom is clean and maximises space. Allow us to create your dream bathroom, simply contact us today for a site visit.