When you are in the process of improving or building your dream home, you need to consider strong security measures to ensure your house is protected against prying eyes, burglars and everything in-between. We offer the following security fitting services:
Alarm Systems
Security Lighting
CCTV Systems
Walls and Fencing
Security Gates (electric and manual)
Ring Doorbells
Shutters
Our alarm system of choice is the Yale Smart Living Home Security System. A very simple, yet very effective system, it is an immediate red flag to would-be intruders. The Yale Alarm System is also wireless, meaning there are no ways for any wires to be damaged, as a faulty wire means your home is at risk. More details of our alarm systems of preference are available upon request.
Security lights are a must in every house. With hard-wired (1.5 to 2.5mm cable) lights, we source and install either sensor lights, or switch operated security lights. These luminous floodlights are the equivalent of a 350W incandescent lamp. No intruder is safe when exposed by such a powerful light.
Our CCTV System of choice is Hikvision, however we also are able to fit the Dahua systems. With the DVR, you will also receive cameras, monitors and mobile phone access. The CCTV System package is bespoke and must be designed in accordance to the plan of your house.
Gates and Fencing
To match the existing landscape of your local area, certain authorities do not allow masonry walls larger than 1m high where the driveway meets a public path. However, we are able to commission our bricklaying team to create all sized walls, regardless of their height, as long as they match the demands of the Local Authority. Even if the walls are only 1m high, metal gates can be installed upon them. We also install fencing around properties, as well as being able to source them. Fencing is essential to mark the boundaries of your garden; they are multi-purpose and a faulty fence is an easy entry point for any burglar, may he be amateur or expert.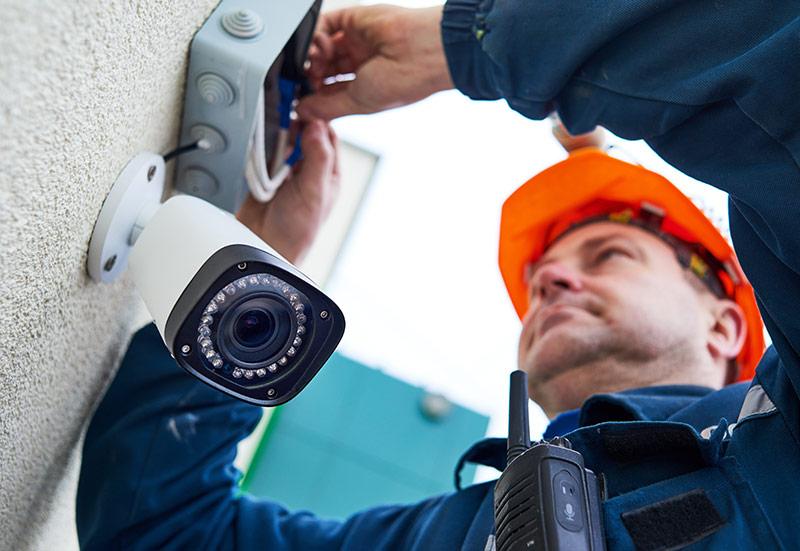 Heavy duty metal gates are a must in any house. More so areas where criminals are more likely to find something of value. Therefore, it is best to stop them in their tracks with strong metal gates which cannot be breached. With expert welders and locksmiths, we have various designs and gates that you can view upon request. We also offer electric gates that open via a remote control.
After completing extensions for a number of elderly disabled clients, many needed a mobility scooter access point in their side extension. Therefore, we installed electric powered shutters with ramps to allow them to enter and exit securely. These shutters are also connected to a security system. The various styles and colours of the shutters are completely dependent upon you, the client, and we will endeavour to create a bespoke product for your needs.
Safety is key in this day and age where our hard work needs to be protected and our systems and solutions are created to ensure the safety of you and your family.