We offer a complete roofing service, from framing and tiling to roof lights all the way to completion. Our roofing services include the following types of roof:
Pitched Roof
Apex Roof
Flat Roof
Hip to Gable Roof
Hip to Valley Roof
Skylight / Roof Light Installation
The type of roof you require generally depends on the type of build you want compared to what you currently have (if you are having an extension). For example, some loft conversions are made from previously what were 'Hip to Valley' roofs into a 'Hip to Gable' roof, which allows more space and for a 'Ridge Beam' to be installed. Pitched roofs generally have a pitch (angle) greater than 12.5˚, with the pitch depending on the type of tile/slate you wish to go for.
Most good architects will pre-plan the roof structure and also prescribe a type of tile/slate that the client chooses. With flat-roofs, a wooden firring strip is placed upon the flat roof joists to create a minimum pitch of 4". We are able to fit all types of tiles and rubber roofs. This includes tiles, slates and everything in between. When it comes to flat roofs, the big debate is traditional GRP or the new rubber-roof trend. In our opinion and expertise, the new rubber-roofs are sturdy and are less likely to cause problems due to the thickness of the rubber, along with a 25-year guarantee by most rubber companies.
We are also able to supply and fit roof lights to your specification. With the big 3 companies of Velux, Fakro and Keylite selling a large range of roof lights, our installation methods will ensure there is a secure window opening that will allow any size window to be placed. We will, of course, only install roof lights if the roof's structural calculations have stated that the weight of an extra roof light will not cause an overload, however this is generally not the case if you have a 4" cavity, stipulated by the modern BSI Regulations.
Once the roof framing, felting, battening and tiling is complete, the lead must be installed to prevent water damage. Once the lead is beat into the shape of the tile, it must be mortared and siliconed in using a strong sand-cement mix and water-resistant silicone respectively. After this, the fascia and guttering stage will commence. Fascia and guttering will be completed according to your requirements, with the ability to add external lighting within the fascia being an option.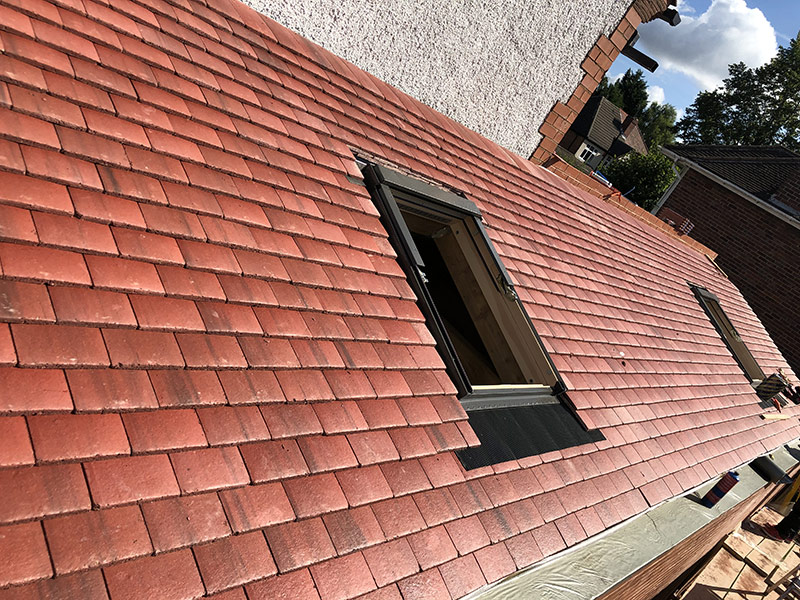 A roof must be strong. Do it once, do it properly. In nearly every old build, roof rafters are only 5"/125mm. However, modern building regulations often stipulate for 6"/150mm. We, however, always over-compensate and use 7" to 8" timber when constructing our roofs. This is because it will take longer to be weathered, and it is a great fixing point for fitting skylights.
We always provide a 15 year guarantee on roof issues once the handover period is completed as a mark of trust and self-confidence in our workmanship.