We provide a bespoke kitchens and bedrooms design and build service, where we will provide you with a complete specification sheet prior to order. We will come out to visit you and complete a measure service. We will then provide you with a brochure and design the kitchen with you using a CAD design. Once the CAD design is complete and you have ordered your kitchen, you are able to view your kitchen being made at our factory unit in North Birmingham.
Our kitchen journey started from our grandfather who developed bespoke hand-crafted kitchens, which meant we were able to create a kitchen by hand in our adolescence.
We offer a variety of materials, from oak to acrylic, designing your dream kitchen and/or bedroom space to suit your needs, understanding that a new kitchen increases your home value by around 6% (Nationwide). We only use 18mm hardback and provide a strong carcass. We also have a variety of handle and closing options, along with in-built lighting solutions.
The beauty of our service is not only do we offer the kitchens and bedrooms manufacturing and fitting service, we also are able to complete the first fixes of electrics and plumbing to ensure your kitchen is brought to life. When you order a kitchen from us, we provide an electric and plumbing plan to meet Building Standards Institution regulations. For example, no electrical sockets may be placed 300mm either side of your cooker or sink. Therefore, it is imperative that a qualified electrician and Gas Safe Register plumber carries out your electrical and gas works in the kitchen. Luckily, we have these tradesmen in our team, meaning you do not need to deal with the stress of having to explain your preferences to a new tradesman for each stage.
Also, in designing a kitchen, light is ever so important. If you have a skylight, at night, your kitchen will become more dark than usual with normal lighting. However, from having a great amount of experience in making kitchens and overseeing good electricians work, our kitchen designers create a spotlight/lighting plan to make sure your kitchen has ample light, for it is the artificial light which will reflect off your units, making the electrician such a key person in developing your dream kitchen.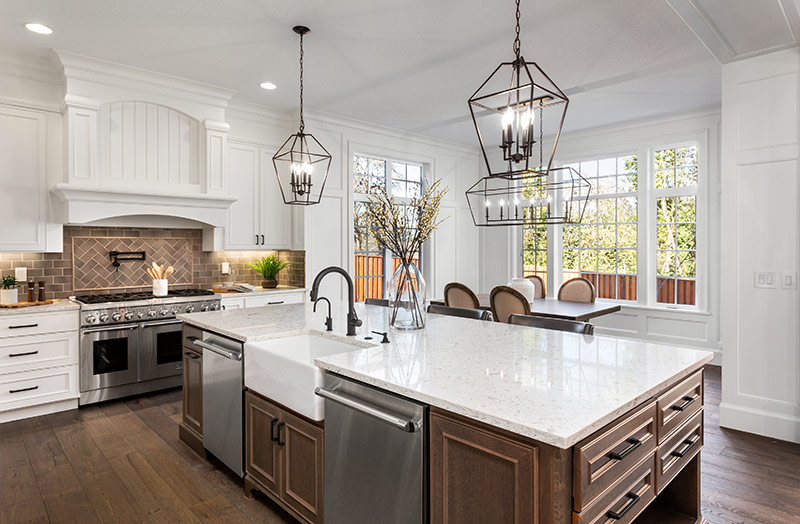 Our in-house plumbers will water-plumb your kitchen to give your appliances the supply they require, along with the Gas Safe Register plumbers connecting your appliances and creating a new gas line, should it be required. A good plumber is probably the most important person other than the kitchen fitter, as water is the element which we most require, yet also the element which can cause great damage. If a pipe bursts or is not fitted or soldered properly (depending on fittings required), sometimes, you will not see this, nor will you hear it if the pressure of the water is low. However, it will cause a great deal of damage if you do not instruct a tried-and-tested plumber. We also offer a 24-hour call-out service should any help be required.
Contact us today to visit our factory showroom or request a visit from our principal kitchen designer.