For any extension or conversion, you need a good architect. Architects can either be your best friend, or your worst enemy, but let us handle the headache of technicalities and allow us to negotiate the dynamics of your dream home. The architect is essentially the first point of works in an extension, for they will be submitting your plans to the council. This means you require a trustworthy architect who understands your requirements.
Without a good RICS (Registered Institute of Chartered Surveyors) architect, you will find it hard to get the local authority to pass your planning permission. Whilst Building Control and Regulations are a lot easier and straightforward, Planning Permission takes 6-8 weeks to obtain and can potentially be rejected. Therefore, it is imperative that a skilled and trustworthy architect is employed to ensure your works are planned properly. Whilst many believe architectural drawings solely map out the dimensions and proposed rooms, it is more than a mere drawing. A good architectural drawing which is ready for Building Regulations correctly identifies the following:
Manhole and Drainage Plan
Foundation Plan in accordance with Ground Report
Roof Plan in accordance with the current run of joists/rafters.
Kitchen Utilities Plan
Bathroom Base Plan
First Floor Joist Plan
Floor Design
Window Locations
Our small team of 2 specialist architects are able to create both domestic and commercial plans, submitting them to the local authority for you. You must then instruct an inspector. These must either be a council inspector, or a private inspector. We tend to have inspectors that we have worked with throughout the years, who are available for appointment. We also facilitate this service. These two architects also have large scale developments of their own, which means they have the greater experience of knowing what will and will not pass regulations, saving you both money and time.
Once the architect has created his drawings, you must then have Structural Calculations to submit as part of a Calculation Pack. This informs the council that a Chartered Structural Engineer has created the specification of the materials of your build. The Structural Engineer designs and calculates the following:
Foundations (if not standard mass fill)
Lintels to be used above windows
Steel RSJs (Universal Beam) or Universal Columns required
Roof timber sizes
Floor design for concrete or beam/block floor.
All of the above are required by Building Control to provide you with a certificate upon completion. Without this, your Home Insurance will also be unsafe on pay-out if complications have occurred as a result of faulty installations of unspecified materials.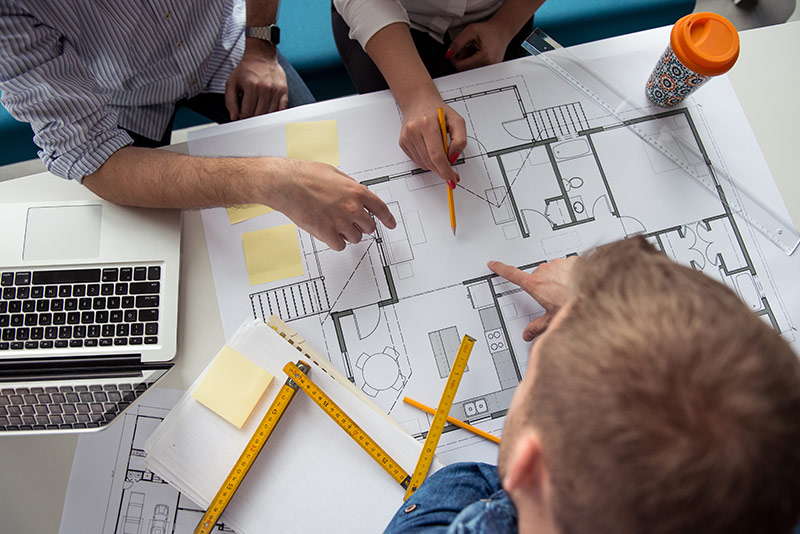 Severn Trent Water owns all underground pipes in the West Midlands. Therefore, to move a manhole if it is in the way of your proposed extension, or if you are building on top of existing pipes, you require a Build Over Agreement. This application can be completed by us upon written request. Severn Trent will charge a fee which differs on all application types, however, on each application, the fee will be stated by Severn Trent.
Once you are ready to start, you then require extra planning. The first set of planning you will require is the inspection booking. From working with a range of qualified building inspectors, we are able to facilitate an inspector who will come out and inspect all stages of your works to ensure they meet the current standards laid out by the Building Standards Institution.